Watch this video before diving in!
Are you spending your days running around putting out fires in your business? There is a solution, read on …..

But before we get to the good stuff, I have a some questions.


– How often to you train SOP's with your staff?
– How many hours per week, per month do you allocate to training SOP'S?
– What day and what time of day do you perform this training?
– HOW do you train those SOP's?
– When last did you do SOP training with your team?
– When last was there a problem in your business where, if a system was in place, it could have been resolved without you getting involved?


Almost every problem I hear about from salon/spa businesses could have either been avoided or resolved so quickly if an SOP was in place guiding the staff on process.
So, let's first look at why you should be doing WEEKLY SOP training with your team:
To maintain a high standard of quality control in your business.
To communicate changes in your business
To increase productivity
To reduce the risk of errors
To connect and engage with your team
So, even if you allocate one hour per week to SOP training with your whole team, well, that's great. The point is, you MUST DO IT. Schedule the time and make this a habit in your business. Within a few months you will see the changes in your team and how they work. You will see a decline in problems brought to you and an increase in solutions being found quickly and creatively, and without your intervention.


Now for the HOW. I have written an SOP for you on HOW TO TRAIN your team effectively on Standard Operating Procedures. The questions I raised above in relation to how and when you train will be explained in the document.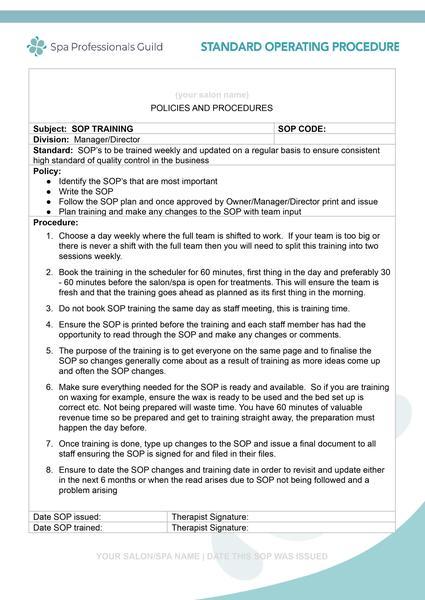 Interested in a FULL SALON/SPA SOP BUNDLE? All templates ready to download and insert your specific detail saving you hours and months of work? If yes, let us know by
CLICKING HERE
and we will send you the options.


Lastly, we have a very INTERESTING COACHING SESSION coming up on the
14th June
that is NOT TO BE MISSED. We are lucky to have
Andrew Jacka
, Chairman of Asia Pacific Spa & Wellness Coalition and global contributor to the Industry with the most interesting topic: Adulterated, Customised or Traditional Spa & Wellness Services. To register for this session
CLICK HERE