Can I ask you a few questions?  This will only take 5 minutes of your time and potentially change your business and profits!
Do you have motivated, eager to work and revenue driven staff?
Have you managed to complete a comprehensive SOP manual for your business?
Is your profit where you want it to be?
Do you have monthly updated P & L reports for your business?
Are your clients spending enough?
Are you attracting new clients that are the right type of clients?
Are you analysing your business daily and making decisions daily to boost revenue?
Is your treatment menu structured for maximum profit?
Are your staff earning enough money?
Are you earning enough money?
If you answered NO to 5 or more of the above questions then your business NEEDS URGENT HELP.
Don't fret though, we can help you! After more than two decades in development, we have cracked the code and have a business model for our Industry that has been successfully implemented in dozens of spas and salons, resulting in extreme wins for our clients. It's guaranteed to change your life, your business, profits and personal income should you implement the tools and systems we will be sharing with you.
Want to know more?
I am offering 10 FREE Discovery Calls where I will give you immediate tips to improve your business without any commitments expected from
you. This call is valued at 
$500
and it will be 
FREE
 to the 
first 10 spa/salon owners or managers
 to 
respond to this email
 requesting a call. You have absolutely nothing to lose and everything to gain!
I am also hosting a Course Content Summary Coaching session on the 21st July where I will take you through a synopsis of the full business management course so you can see what's in store should you decide to join our community. Most exciting is that our course is continuously being updated with fresh new content to keep it relevant! What worked two years ago will not work today and we ensure you have the latest tools for your business, from detailed marketing plans and Standard Operation Procedures to P&L and KPI templates!!
Want to join on the 21st to get a taster?  I'd love to meet you!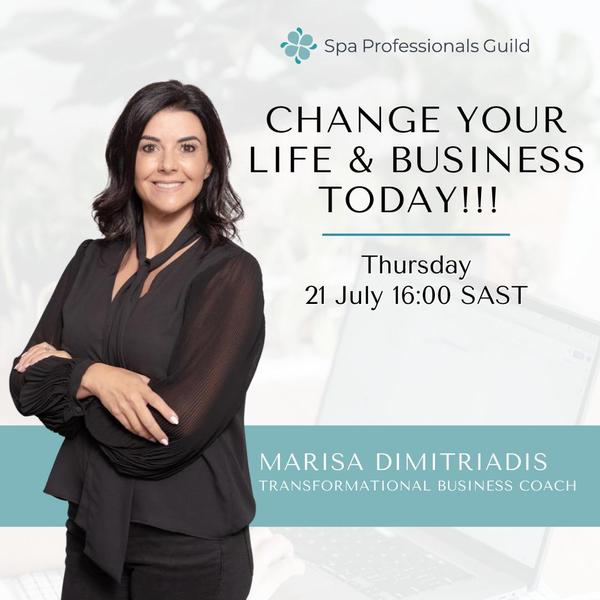 Can't wait to see you!
Marisa xx