Watch this video before diving in!
Technology has never been at the pace and level it is right now!  Everything is tech led and it's incredible how businesses that embrace technology are growing faster and really meeting customer needs.
I'd like to ask you a few questions….
Do you make use of a professional software system to manage your business?  
Are you able to take online bookings and sell online vouchers?
Do you have a sound bar ready to offer your clients their choice of sounds/music to enhance their treatment?
Are you actively using a CRM system? 
That's one side of tech, here's the other with a few more questions: 
Do you offer machine based treatments in your spa/salon?
Are your technologies the latest or 4 or 5 years old?
Are you incorporating machines into all your treatments for better results? 
Are a lot of your answers yes or more no?  Well, whatever the outcome, I wanted to share with you some of the latest global tech trends when it comes to machinery or equipment in your salons and then you can measure where your business is at when it comes to this.  For those of you in the wellness space, don't switch off because technology and equipment is going to be the future — it's all about how is it incorporated. 
Let's look at the TOP 5 treatments globally that make use of technology
The NUMBER ONE treatment globally and growing in consumer demand daily is the HydraGlow Facial also referred to as Microhydrabrasion or HydraFacial or 02 Facial.  There are many names given to this treatment but basically it is the most advanced treatment using three solutions on the skin with a patented head piece that pushes out the solution and at the same time removes all dirt from the skin and resurfaces. 
Laser Hair Removal.  It seems that Diode is taking the lead currently with a new technology called SHR or Super Hair Removal which uses gentler pulses of energy but at a higher frequency. This laser hair removal technology allows the skin to be heated gently, but with the rapid pulses, the energy is then accumulated by the skin. While 50% of the energy is targeted at the melanin (similar to IPL), the other 50% targets the stem cells responsible for hair production.
​This is a very important point to note as SHR thereby targets both fine and coarse hairs. Ultimately, this leads to less discomfort and pain, yet an improved efficacy. Because of the gradual accumulation of the energy into the skin, there is less trauma and irritation on the skin – making it ideal and suitable for everyone, regardless of skin tone and even for customers with sensitive skin. In fact, SHR is often considered to be one of the best laser hair removal treatments. 
HIFU or High-Intensity Focussed Ultrasound.  HIFU uses focused ultrasound energy to target the layers of skin just below the surface. The ultrasound energy causes the tissue to heat up rapidly.
Once the cells in the targeted area reach a certain temperature, they experience cellular damage. While this may seem counterintuitive, the damage actually stimulates the cells to produce more collagen — a protein that provides structure to the skin. 
The increase in collagen results in tighter, firmer skin.  Since the high-frequency ultrasound beams are focused on a specific tissue site below the skin's surface, there's no damage to the upper layers of the skin and adjacent issue. 
RF Needling.  This is now the next step up from micro needling by introducing Radio Frequency energy whilst needling the skin.   Micro needling works by encouraging your skin to make more collagen. The idea is that around 5000 micro channels are created by the pinpricks from the procedure cause slight injury to the skin and that the skin responds by making new collagen-rich tissue.  What is important once those channels are opened is that the radio frequency energy is now transferred much deeper into the skin resulting in a firm, tight and toned skin that also produces a lot of collagen keeping the skin in a youthful, glowing state. 
Fat Freeze or Cryolypolisis.  Slimming and sculpting are always in demand.  This technology is interesting as it is the only technology able to actually reduce the amount of fat cells and get rid of them instead of just reducing the size of the fat cells which typically happens when we lose weight.  The great part of this treatment is that you can do a facial for example whilst the fat freeze treatment is taking place depending on the area being treated.  Also this treatment allows you to package a whole lot of different types of slimming/sculpting technologies together to offer a journey to your clients when it comes to their body. 
With all the above technologies, and at any point in time when you are going to invest in technology please take note of the following:
What to look out for:  
Don't buy multi purpose units as they can have some serious side effects on the skin by overstimulating the skin wanting to use more than one technology.  Stay focused, and the bigger your unit the more powerful the energy with most of the technologies. 
Don't buy the cheapest unit you can find.  Invest in quality and ensure you get a 6 – 12 month MAXIMUM return on investment.
Don't import your own unit as you won't have the after sales service and training support that you will need. 
I am very happy to guide you with the many years experience with many salons and spas investing in technology.
The bottom line is make the investment and start with ONE unit only and then build from there.  How do you know where to start? The famous …… SURVEY!  Don't ask your clients what they want but rather say what you are thinking of offering and which would they prefer?
Look at what Jennifer Eales has to say about technology and how it has changed her business that's been running for over thirty years!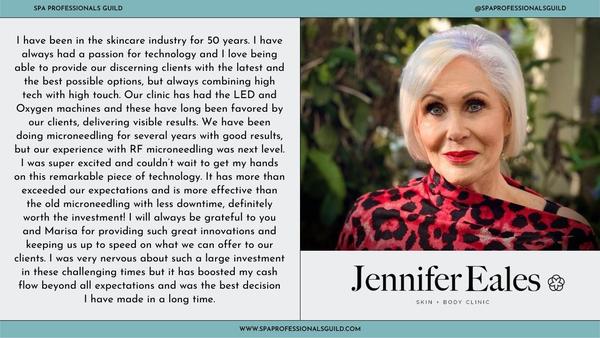 "I have been in the skincare industry for 50 years. I have always had a passion for technology and I love being able to provide our discerning clients with the latest and the best possible options, but always combining high tech with high touch. Our clinic has had the LED and Oxygen machines and these have long been favored by our clients,  delivering visible results. We have been doing microneedling for several years with good results, but our experience with RF microneedling was next level. I was super excited and couldn't wait to get my hands on this remarkable piece of technology. It has more than exceeded our expectations and is more effective than the old microneedling with less downtime, definitely worth the investment! I will always be grateful to you and Marisa for providing such great innovations and keeping us up to speed on what we can offer to our clients. I was very nervous about such a large investment in these challenging times but it has boosted my cash flow beyond all expectations and was the best decision I have made in a long time."
JOIN OUR UPCOMING COACHING SESSION!
Our next coaching session is on the 23rd of November at 4 pm. It is a VERY important session about WINNING in the Spa/Salon Industry.  Are you an Attraction Magnet or a Drama Queen…  with Marisa Dimitriadis!
Register HERE for the 23rd of November session.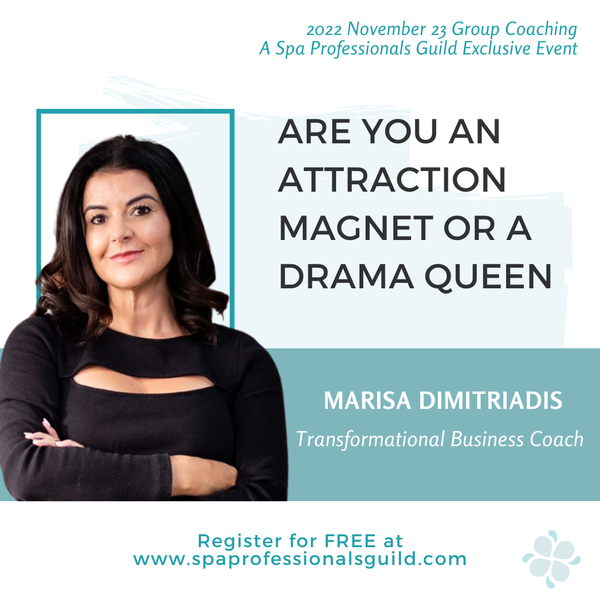 Until next week!
Marisa xxx